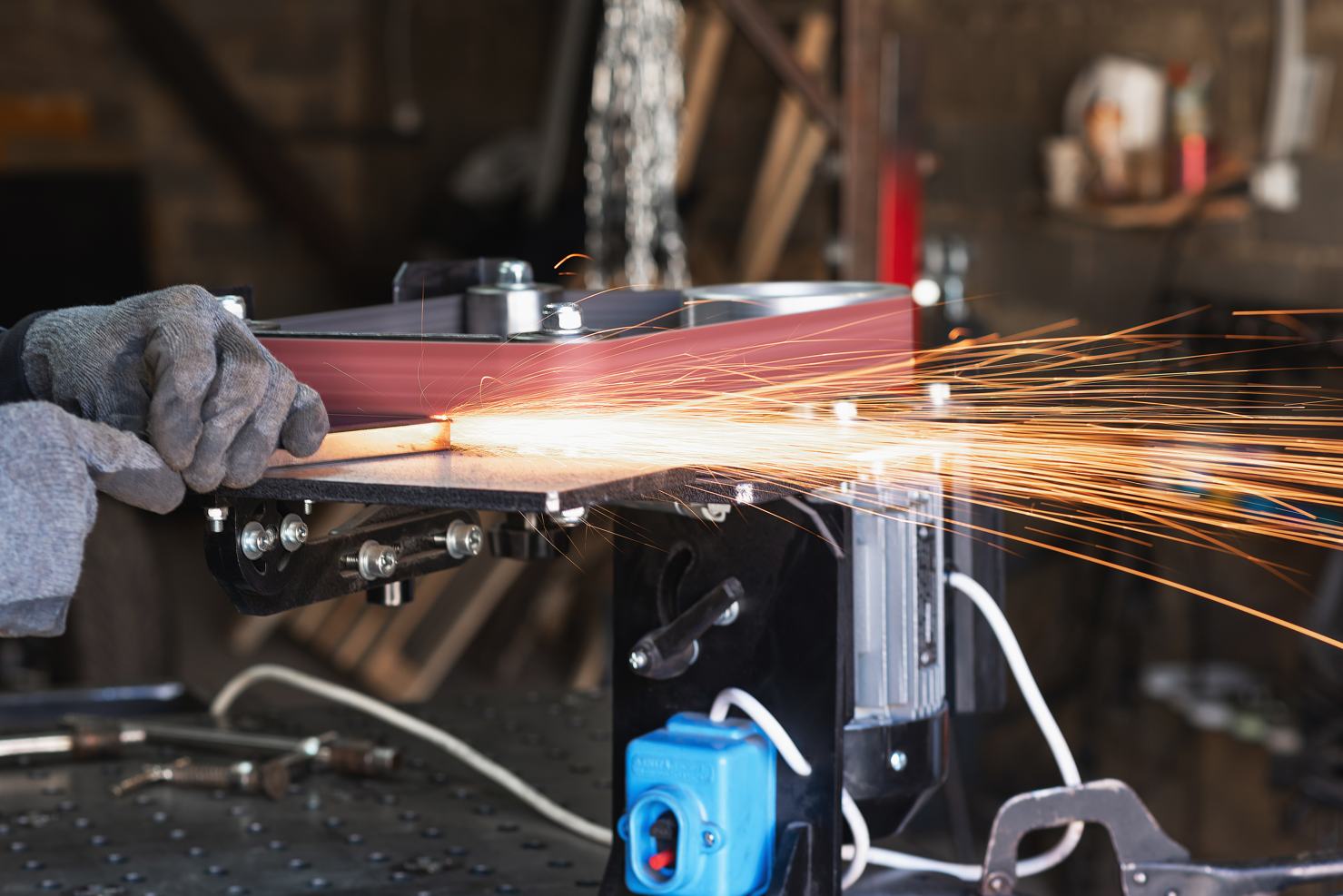 How are surface conditioning products used in metal fabrication?
In general terms, Scotchbrite™ (a trademarked 3M product) is used to change the patina of a metal surface. Most commonly, Scotchbrite™ (a trademarked 3M product) is used to create a "brushed" or a "mirror" finish to the surface of something that has been manufactured out of Stainless Steel.

Scotchbrite™ (a trademarked 3M product) is a sparse non-woven polymer that can be manufactured from cellulose, nylon or spun polypropylene fibre. Products use several variations of hardening and abrasive materials, such as Aluminum oxide (alumina), zirconia, and ceramics to get their abrasive functionality.

Industrial abrasives made from Scotchbrite™ (a trademarked 3M product) assist in the creation of a consistent, burr-free, paintable finish in fewer steps without damaging the base material. The non-woven, open web, durable construction is designed to resist loading and greatly increase the life of the disc. Scotchbrite™ (a trademarked 3M product) material allows you to improve surfaces without significantly changing the shape or dimension or the workpiece – and helps prevent undercutting and gouging. Scotchbrite™ (a trademarked 3M product) products make it easier to produce a consistent finish to all metal working projects.

Smith & ARROW offers a wide range of non-woven surface conditioning products:

Hand Pads & Rolls
Rust Removal Surface Conditioning Polishing Hand Pads
Surface Conditioning sanding hand pads will never rust and are the alternative to steel wool, wire brushes, sandpaper and other non-woven products for cleaning or finishing tasks by hand. Impregnated with abrasives such as aluminium oxide, these products provide a fast cut through rust and discolouration as well as breaking down adhesive and most paint coatings with ease.

Designed to offer the user a flexible and conformable abrasive, these hand pad finishing abrasives are suitable for use with water or solvents and rinse clean for reuse. Surface Conditioning hand pads do not shred during use or leave fine metal splinters, and they resist tearing and shredding, making them essential for any work area or workshop.

Excellent for use on wood, metal, plastics, ceramics, porcelain, glass, rubber, or composites for general purpose cleaning, blending, prep work, and finishing without damaging the work piece. Smith & ARROW sells Surface Conditioning pads in individual hand pads in boxes of 20 individual pads, or a roll of 60 tear off sheets.

Surface Conditioning Linishing Belts
Surface Conditioning abrasive belts are used in blending, finishing and polishing applications on both bench / pedestal mounted or hand held linishing machines. Whether you are blending metal grain in joins, matching a finish, or cleaning before welding, Surface Conditioning Linishing Belts will meet the task. By starting with coarse grain, and then going over the same area in medium grain, followed by fine grain and finally ultrafine grain, the user can achieve a perfect mirror finish to a stainless steel project.

Get the conformability and polishing power you need to access the tightest corners, tackle small welds and blend finishes. Surface Conditioning Linishing Belts have a high quality mineral coating, increased fibre strength and low stretch material. Smith & ARROW sells these belts in fine, medium and coarse grit in the following sizes: 530mm x 30mm, 760mm x 40mm, 915mm x 50mm, 1220mm x 50mm.

Surface Conditioning Flap Discs
An amazing product in the right application combining the versatility and reliability of a flap disc with the surface conditioning capabilities of non-woven abrasive conditioning material. Made from premium, dense, nylon webbing infused with aluminium oxide abrasive grain, then adhered in an overlapping, flap pattern onto a strong fiberglass backing these discs will make short work of any finishing or polishing project.

They provide the same blending and cleaning ability of Poly Strip Discs but with the added benefit of longer life and more consistent finishes provided by the flap disc construction. As the nylon material wears down and falls away, new material is revealed from underneath allowing for more consistent results with less down time changing discs. These flap discs will not only offer better results than standard surface conditioning discs but increase operator efficiency.

Non-woven surface conditioning Flap Discs are perfect for use on all metal including stainless steel, plastic and fibreglass. Additionally, these discs attach right to a standard angle grinder without the need of any backing pad. Smith & ARROW sells 5" 125mm Scotch-Brite Flap Discs in three variations of coarseness: Fine – Blue, Medium – Maroon/Red, and Coarse – Brown.

Scotchbrite Roloc Discs
Offering the same versatility and functionality as Scotchbrite Flap Discs, Scotchbrite Roloc disc screw straight on to a standard Roloc machine and offer excellent practicalities for accessing small tight spaces where a Flap Disc and Angle Grinder would simply not be practical. Also, like the Scotchbrite Flap Discs, Scotchbrite Roloc discs are available in the following grits: COURSE (usually brown in colour), MEDIUM (usually red in colour), and FINE (usually blue in colour) and in 50mm (2") and 75mm (3") diameter.