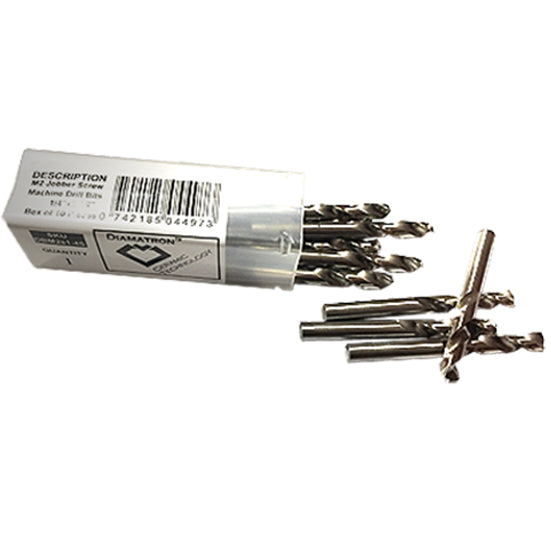 SCREW MACHINE STUB LENGTH DRILL BITS - 1/4 X 2 1/2"
Original price
$0.00
-
Original price
$0.00
- Made from M2 High Speed Steel (HSS) offering the best combination of strength, heat         and wear resistance
- Shorter length provides increased strength and rigidity for machine drilling of steel, cast       steel, cast iron, or non-ferrous and non-metallic materials
- Built for maximum durability and log life with impact drivers / power drills
- Self-centering 135 degree split point starts immediately on flat or curved surfaces. The         split point provides better positioning and reduced feed force and torque
- These bits are screw length also called stubby or stub length because they are 2.5" in           length. Perfect for the hard to reach areas.
- Their shorter flute length and shorter overall length compared to a standard jobber bit         results in a more rigid drill bit, reducing deflection and breakage
- Originally designed for screw machines, many prefer these bits due to their high strength    and added working clearance
INTERNATIONAL QUALITY ASSURANCE: ISO9001
Specifications

Size Metric: 6.5mm x 65mm
Size Imperial: 1/4" x 2 1/2"
Choose Quantity From Drop Down: 10 Bits or 30 Bits
Material: M2 HSS (High Speed Steel)
Fully Ground: Yes
Intended Use:
Steel, all metal, aluminium, brass and plastic. For drilling stainless steel use M35 bits on slow speed. See our shop for M35 bits.
Point Angle: 135° Split Point
Type: Single Ended
Machine: Power Drills, Screw Machines such as automatic lathes.