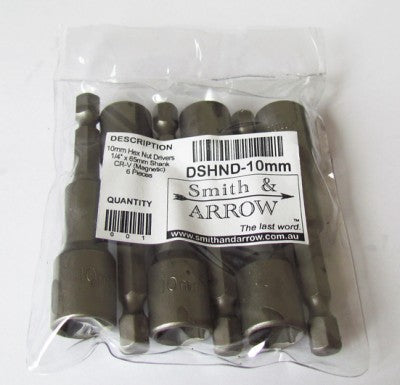 HEX NUT SETTERS / DRIVERS BITS - 3/8" OR 10MM
Original price
$0.00
-
Original price
$14.97
- Chrome Vanadium Steel.
- Choose 3/8" or 10mm.
- Magnetic connection.
- Fit into quick release, snap-connect, driver fitting / drill.
- Built for maximum durability and log life with impact drivers / power drills.
- Nut setters with magnetic inserts are generally used for holding and driving hex head           sheet metal screws.
- For driver bits in S3 steel, please check our ebay shop. Driver bits available - phillips head,     slotted head, hex head, square head, socket adapters and quick release bits.
INTERNATIONAL QUALITY ASSURANCE: ISO9001
Specifications

Choose Size From Drop Down Menu:
10mm (25/64") x 65mm x 1/4" Hex Drive
3/8" x 65mm x 1/4" Hex Drive
Choose Quantity From Drop Down Menu
10mm, 25/64" x 1 piece = $2.95
10mm, 25/64" x 6 pieces =$15.95
3/8" x 1 piece = $2.95
3/8" x 6 pieces =$15.95
Type: Nut Setter
Material: Chrome Vanadium Steel
Length: 65mm
Hex Drive: 1/4"
Magnetic Connection: Yes
Intended Use: All metal and wood
Machine: Power drill