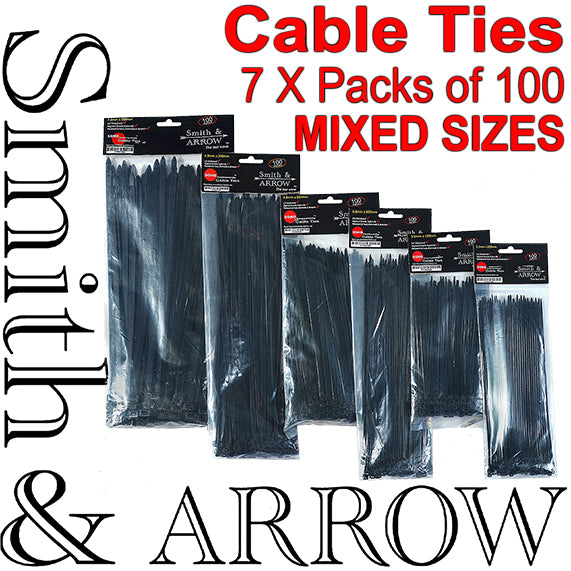 600X CABLE ZIP TIES BLACK UV STABILISED 2.5MM / 3.6MM / 4.8MM
Original price
$0.00
-
Original price
$0.00
Highest grade nylon 66, self-locking nylon cable ties - a versatile fastener, ideal for bunching together cables or wires quickly and easily. One piece construction, self locking nylon cable ties. Extra strength due to heavier weight of material used.

- Available in a range of sizes, these nylon UL approved cable ties are resistant to most           chemical acids and are ideal for use in the home, office or workshop.
- RoHS (Restriction on Hazardous Substances) compliant: contains no lead, mercury,               cadmium, hexavalent chromium, polybrominated Biphenlye (PBB), polybrominated               biphenyl ethers (PBDEs).
- UV resistant -  (takes the high-energy UV rays and converts them into heat before they          can damage the polymer resin), prolonging life in outdoor applications. UL Classified           (flame retardant) -40° to 85°.
Specifications

Choose Quantity: 200 / 600 / 1200
Choose Size:
2.5mm x 100mm / 2.5mm x 200mm
3.6mm x 150mm / 3.6mm x 250mm
4.8mm x 200mm / 4.8mm x 300mm
Brand: Smith & ARROW
Part Number:
2.5mm x 100mm = CT1002-5QQ
2.5mm x 200mm = CT2002-5QQ
3.6mm x 150mm = CT1503-6QQ
3.6mm x 250mm = CT2503-6QQ
4.8mm x 200mm = CT2004-8QQ
4.8mm x 300mm = CT3004-8QQ
UV Stabilised: Yes
Material: Highest grade nylon 66
Packaged: Packaged in plastic bags of 100