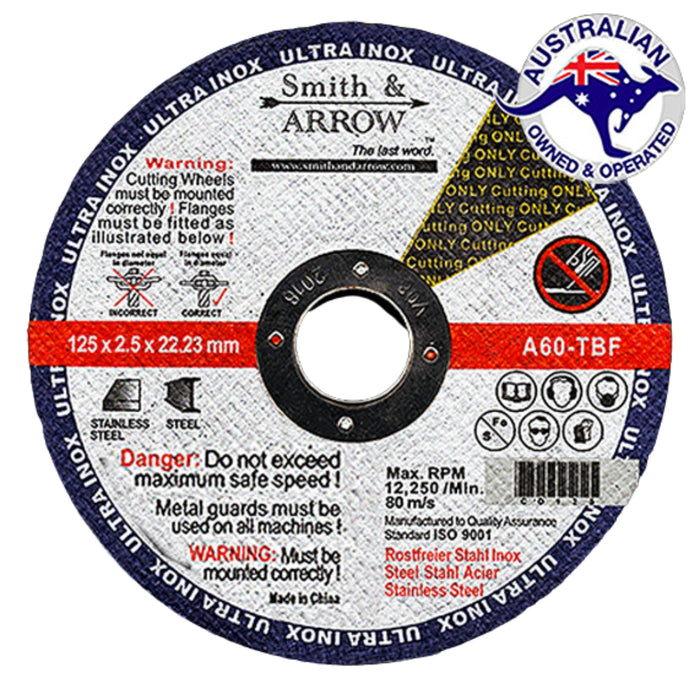 5", 125MM X 2.5MM - METAL CUTTING DISCS
Original price
$0.00
-
Original price
$23.25
- These discs are our thickest for heavy cutting of thick steel.
- Excellent for cutting stainless steel, mild / black steel and all metal.
- Also good for aluminium fabricators.
- Thicker disc at 2.5mm for heavy steel cutting.
- This is a commercial grade product that is of superior quality - INOX quality which is of         the highest level.
- Manufactured to ISO Quality Standards and European EN12413 Safety Standards
- Smith & ARROW Cutting Discs are Certified to Safety & Quality Standards
INTERNATIONAL QUALITY ASSURANCE: ISO9001
Specifications

Size: 5", 125mm x 2.5mm
Quantity: Box 25, 50, 100
Bore: 22.23mm (7/8")
Thickness: 2.5mm (3/32")
INOX Quality Rated: Yes
Max Speed: 12,250 rpm
Machine: Angle Grinder
Intended Use: For cutting stainless steel mild, steel, black steel, aluminium