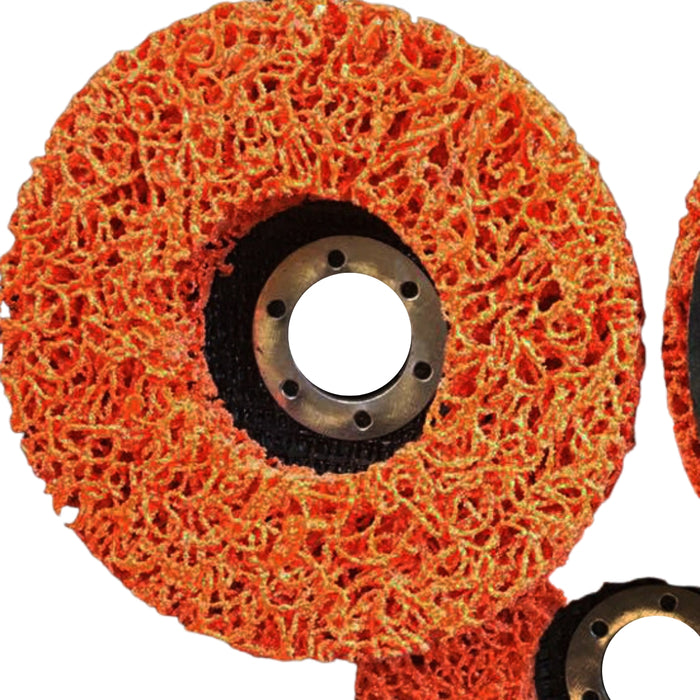 5" 125MM - CERAMIC STRIP DISCS
Original price
$0.00
-
Original price
$12.44
Ceramic discs can last up to four times longer compared to Zirconium discs and have a very high degree of material removal. Grinding remains cooler and more uniform due to the nature of the ceramic grain.
- Very fast removal of paint or rust WITHOUT damaging the original surface.
- Particularly suitable for removing, lacquer and paint coating on wood, stone, metal and         fiberglass surfaces.
- They are clog resistant, strips fast and can be used for all coating and surfaces.
- Used for surface preparation, conditioning and finishing. Excellent for removal of paint or     rust off car panels.
Specifications

Size: 5", 125mm
Choose Qty From Drop Down Menu: Box 1, Box 2, Box 4, Box 10, Box 20
Material: Ceramic
Bore: 22.23mm (7/8")
Max Speed: 12,250 rpm
Thickness: 12mm
Machine: Angle Grinder
Intended Use: Metal, all steel, wood, plastic fibreglass

Why is the Strip Disc so effective ?:
The discs are manufactured from polyfibre and impregnated with coarse grain silicon carbide. After that, they are strengthened with synthetic resin. This combination results in an abrasive material with an open structure. It is sharp and flexible and doesn't clog with shavings, so that you can continue sanding without any problems. This makes the Clean & Strip the ideal abrasive material for effectively cleaning a surface. Because of its unique open structure, the Clean & Strip only removes the upper layer of the object, without grinding or cutting into the surface. This open structure enables cool grinding.