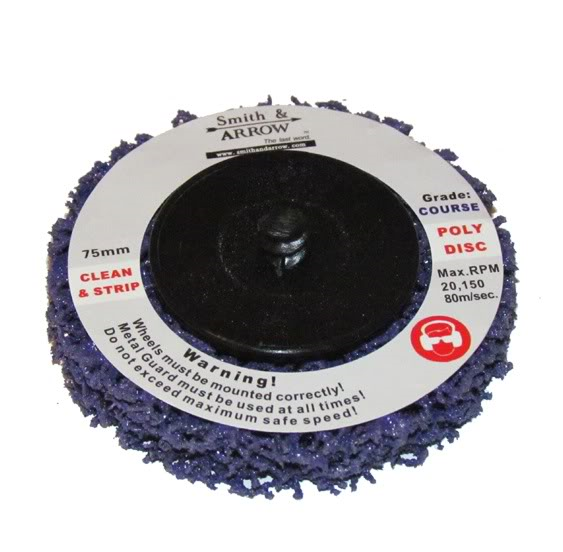 3" 75MM QUICK CHANGE POLY STRIP DISCS
Original price
$0.00
-
Original price
$7.12
These poly discs will thoroughly remove paint, epoxy and rust from surfaces. The surface will then be prepared for painting or coating. The discs are very suitable for the quick and effective treatment of surfaces that are hard to clean
- Very fast strip removal of paint or rust WITHOUT damaging the original surface.
- Excellent for removal of paint or rust off car panels - also great for use on wooden or          fiberglass surfaces. Ideal for cars, trucks, motorcycles or boats.

INTERNATIONAL QUALITY ASSURANCE: ISO9001

Specifications

Size: 3", 75mm
Choose Qty From Drop Down Menu: Box 2, Box 4, Box 10
Choose Grit From Drop Down Menu: Coarse, Medium, or Mixed Grit
Max Speed: 20,150 rpm
Thickness: 12mm
Machine: Quick Change Tool or Air Tool
Intended Use:
Steel, all metal, wood, plastic and fibreglass surfaces

Why is the Strip Disc so effective ?:
The poly discs are manufactured from polyfibre and impregnated with coarse grain silicon carbide. After that, they are strengthened with synthetic resin. This combination results in an abrasive material with an open structure. It is sharp and flexible and doesn't clog with shavings, so that you can continue sanding without any problems. This makes the Clean & Strip the ideal abrasive material for effectively cleaning a surface. Because of its unique open structure, the Clean & Strip only removes the upper layer of the object, without grinding or cutting into the surface. This open structure enables cool grinding.