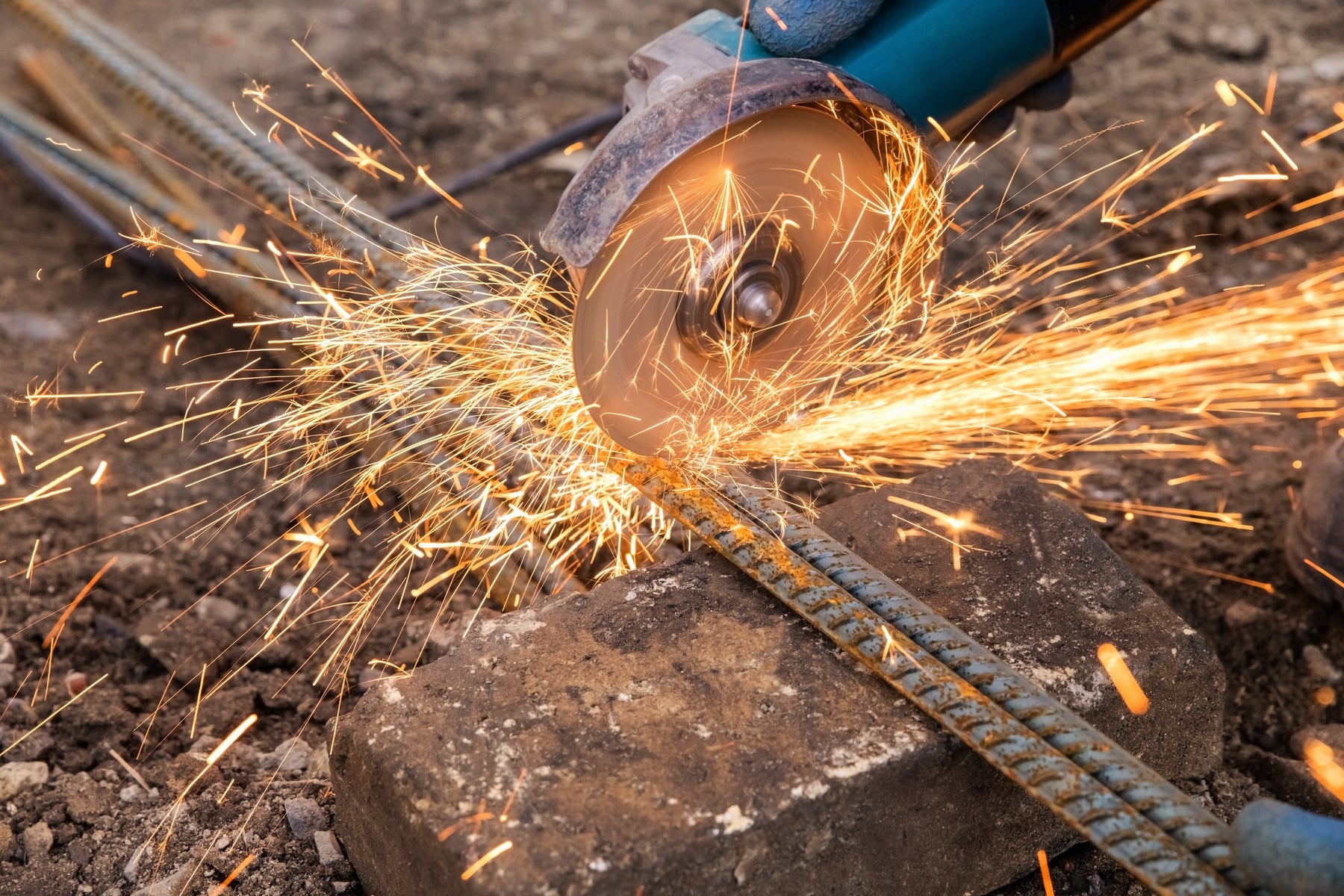 What are the best cutting discs for steel?
DIY users approaching projects in the metal fabrication field, where steel cutting is required, always have an initial question on what is the best abrasive product to efficiently cut through both stainless steel and mild steel. There are a few key determinants to selecting both the appropriate power tool for your project, and the most effective steel cutting abrasive for your project. For DIY users these factors depend largely on what type of material needs to be cut, the thickness of the metal that needs to be cut, and the accessibility of the metal area that needs to be cut. We aim to go through the best abrasive for the job below.
Best Power Tools to Cut Steel
Steel can be cut with a variety of power equipment, depending on the shape of the steel that needs to be cut. A bench mounted, drop saw will fit a 14" 350mm or 16" 400mm cutting blade, and this is most suitable for heavier steel work as the chop saw can cut through almost any metal with the correct cutting blade.
A bench mounted drop saw is particularly useful for cutting repetitive lengths of steel quickly and accurately. The limitation with this tool is that it will only cut at a straight 90º angle. For thin, fiddly auto work, a rotary or air tool may be your weapon of choice. These are particularly useful power tools to get into those hard to reach areas where heavier, bulkier tools cannot be manoeuvred. You can also cut metal with a hacksaw, however this is much more intensive work for something a power tool can do in a fraction of the time.
However, the most popular and versatile power tool to use to cut steel is an angle grinder, due to its size, affordability, and portability. An angle grinder can be purchased in a range of sizes to suit different sizes abrasive cutting discs. Each angle grinder will operate at a different RPM to suit the respective disc, therefore it is important not to fit an incorrect sized disc on an angle grinder. They will also have a guard that should never be removed to accommodate a wheel that is not meant for the grinder size.
An angle grinder includes a spindle washer and spindle nut that you'll install in different configurations to accommodate thicker or thinner wheels or remove altogether when screwing wire wheels and cups onto the threaded spindle. The most popular angle grinder sizes in Australia for both professional fabricators and DIY users are 4″ 100mm and 5″ 125mm.
Choosing Profile of Cutting Wheel
There are two types of common cutting wheels to suit an angle grinder: Type 1, which is flat; and Type 27, which has a Flat vs Depressed Centre Cutting Discdepressed centre.
Generally speaking, Type 1 wheels offer more versatility, especially when cutting profiles, corners or anything that requires the operator to cut up and over two different planes of cutting surface. Type 27 wheels, on the other hand, are ideal for getting into tight corners or overhangs. The depressed centre of a Type 27 wheel provides the extra clearance sometimes needed to get the job done. It is strongly recommend that the general DIY user purchases a flat Type 1 cutting disc which is the more popular type of wheel.
Choosing Grain and Quality in Cutting Wheels
The most popular grain used in the manufacture of abrasive cut-off wheels is aluminum oxide. This is a softer bond that results in a cut that is fast, smooth and easy-to-control.
These aluminium oxide cutting wheels can be purchased in INOX grade quality, which means the abrasive wheel contains no iron and therefore has the ability to cut both stainless steel and mild steel. If the cutting disc does not specify for use on Stainless Steel or have INOX stamped on the label, then it is most likely only suitable for mild steel cutting. As stainless steel is one of the harder types of steel to cut, a disc that cuts through stainless steel will cut through all types of metal including aluminium, sheet metal, rebar and other mild steels.
Choosing Thickness of Cutting Wheels
Cutting discs are available in different thicknesses, and the type of wheel you select depends on the type, shape and thickness of the steel that needs to be cut. For standard everyday jobs on either stainless or mild steel using an angle grinder, choose a 1mm or 1.6mm thickness in your disc.
For projects that involve thin metal such as sheet metal, choose a 1.0mm or 0.8mm thinner cutting disc. These thinner discs will sheet metal faster and as such, minimise discoloration and leave less work in the clean-up of the surface of the metal once you're done.
When working with Aluminium, best results it is recommended to apply cutting wax or other type of saw lubricant to the cutting disc to preserve the life of the blade and avoid chipping. For heavier steel cutting jobs where you need to cut through a significant thickness of metal, select a 1.6mm or 2.5mm thickness of cutting disc. However, it is important to note that thicker wheels cut slower and generate more friction and heat through the cut — often discolouring the workpiece and requiring additional steps to finish.
Tips on Using Cutting Wheels on an Angle Grinder
Rule number one when using an Angle Grinder is SAFETY. This means; the correct wheel for that sized grinder, appropriate safety gear (safety gloves, face shield, safety glasses etc), let the wheel do the work – don't push it, and pay attention to what you are doing. It is important to use even pressure and consistent motion through the cut. Let the wheel do the work and use the weight of the tool to complete the cut. Pushing too hard increases cut speed but also generates heat and friction, which ultimately reduces wheel life and can be very dangerous.
Abrasives Suppliers
A good abrasive supplier will stock a range of cutting discs for mild and stainless steel to suit the bench mounted drop saw, angle grinder and air tool. At Smith & ARROW, an Australian company, we stock cutting abrasives to suit all different sizes drop / chop saws, air tools, rotary tools, roloc tools and angle grinders. We sell very high quality cutting discs for the metal fabrication market.
Smith & ARROW is the only abrasives range in Australia to receive INDEPENDENT CERTIFICATION for our entire range of cutting and grinding wheels (equal to or greater than 100mm diameter) as complying with Australian Standard AS1788.1-1987 from SAI Global. As a result, Smith & ARROW has been licensed by SAI Global to use their "5 Tick" Quality Certification Mark – one of the most recognisable and respected Quality Marks in the world – on the labels and packaging of all of our cutting and grinding wheels within this range under both our Smith & ARROW Brand.
Along with a wide and ever increasing range of high quality industrial consumables that represent amazing value for money for our customers, Smith & ARROW supply cut off wheels to suit all steel, in a range of thicknesses to suit your preferred application. View our entire cutting disc range here.