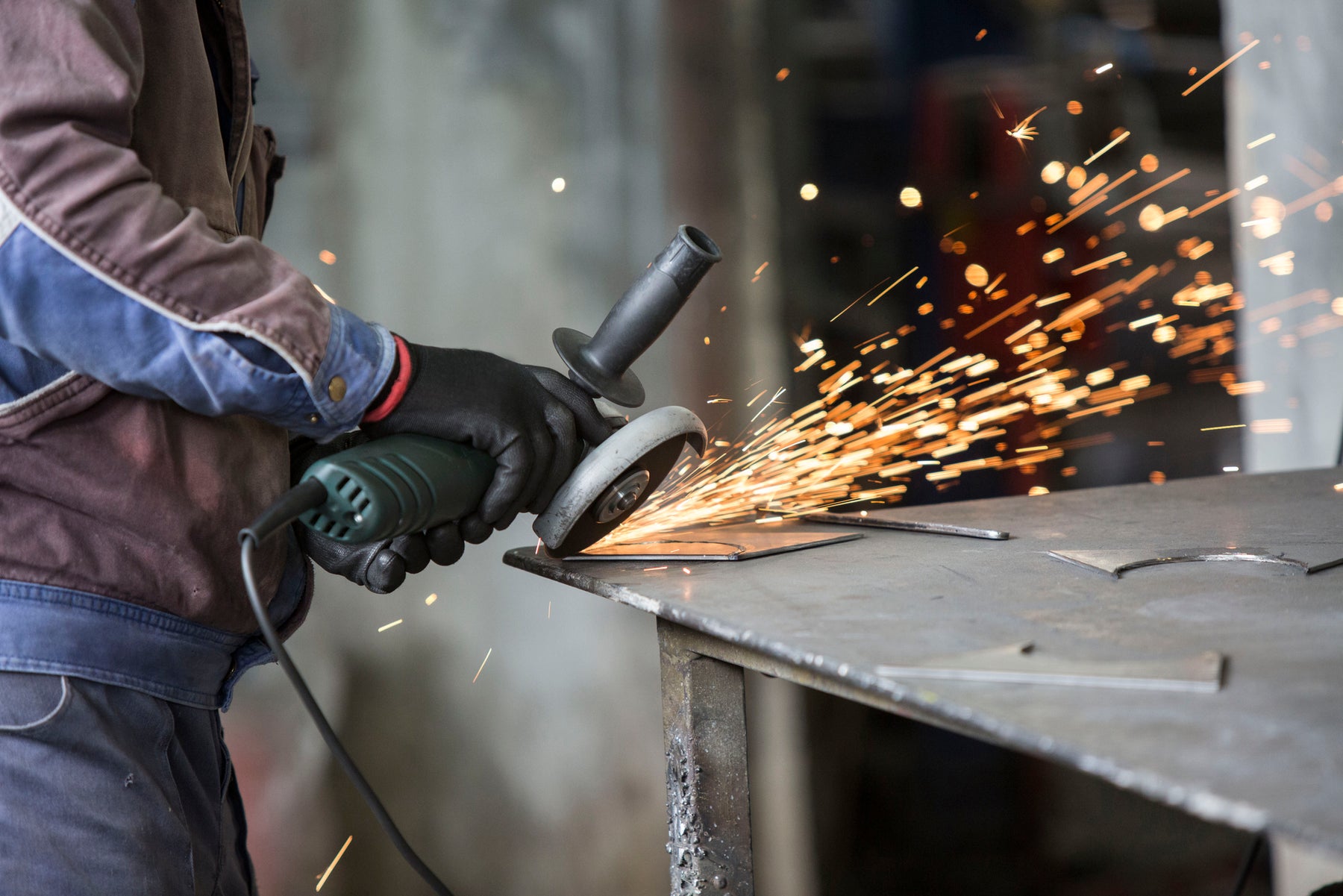 Choosing the right abrasive wheel for angle grinders.
The vast array of abrasives to choose for cutting, sanding, grinding, finishing and stripping metal can be overwhelming for users who do not work within the steel fabrication industry. This article is designed to brief DIY users working on metal projects how to select the best abrasive for the job. As most fabricators use angle grinders, the most versatile and portable power tool, this article focuses on tools that are designed to fit on angle grinders.

Cutting Discs
If your aim is to cut through metal, Cutting Discs are the best attachment for your angle grinder. Cuttings discs are expendable tools used on angle grinders for cutting steel, stainless steel, aluminium and other metal alloys. Made from fiberglass reinforcing net, organic resins and abrasive material, formed under heat and pressure, some wheels cut faster than others. All of the components used in the manufacture of the wheel, as well as how it is made can influence cut rate and consumable life. Aluminium oxide and zirconia grain are the most popular and provide toughness and good performance for cutting on steel.

Cutting discs are available in different thicknesses, and the type of wheel you select depends on the type, shape and thickness of the steel that needs to be cut. For standard everyday jobs on either stainless or mild steel using an angle grinder, choose a 1mm or 1.6mm thickness in your disc. For projects that involve thin metal such as sheet metal, choose a 1.0mm or 0.8mm thinner cutting disc. These thinner discs will sheet metal faster and as such, minimise discoloration and leave less work in the clean-up of the surface of the metal once you're done. For heavier steel cutting jobs where you need to cut through a significant thickness of metal, select a 1.6mm or 2.5mm thickness of cutting disc. However, it is important to note that thicker wheels cut slower and generate more friction and heat through the cut.

Smith & ARROW supply Cut Off Wheels in INOX grade which means they contain no iron (Fe) and therefore are perfect for use on both mild and stainless steel. They are available in 2" 50mm / 2.5" 60mm / 3" 75mm / 4" 100mm / 4.5" 115mm / 5" 125mm / 7" 180mm / 9" 230mm / 14" 350mm / 16" 400mm. We also sell our cutting discs in a variety of thicknesses to suit a range of steel fabrication projects – for example, in our popular 5" / 125mm Cutting wheel we have 4 different thicknesses: 0.8mm, 1.0mm, 1.6mm, and 2.5mm. To see a visual demonstration of the Smith & ARROW INOX Grade 125mm x 1.0mm Cutting Wheel please view the Smith & ARROW Cutting Disc video here.

Flap Discs
Flap discs are generally the best abrasive /grinding wheel for fast stock removal, deburring welds and provide grinding, blending and finishing with one product. INOX grade Flap Discs using (blue / green) Zirconia material are perfect for use on both mild and stainless steel. This is in contrast to other Flap Discs that use the significantly less effective (brown / red) Aluminium Oxide abrasive material, which is also not suitable for work on stainless steel. These zirconia (zirconium) flap discs are designed to allow for the abrasive grain to cut effectively for as long as possible and then release cleanly to open up the fresh cutting grain on the flap underneath – providing a more consistent finish and uniform cut rate.

Strip Discs
This is the ideal angle grinder attachment used to remove paint. These paint remover discs will thoroughly remove paint, epoxy and rust from surfaces. The surface will then be prepared for painting or coating. The discs are very suitable for the quick and effective treatment of surfaces that are hard to clean.

4" 100mm Clean & Strip Poly Discs. Rust Paint Removal |Smith & ARROWPoly Clean and Strip discs are made of poly-fibre impregnated with abrasive grain, which provides a very fast strip removal of paint or rust IMPORTANTLY without damaging the original surface. This is what makes Poly Strip Discs different from other sanding / flap discs that will also remove paint and rust but will also remove the original surface material. This makes them excellent tools for the removal of paint or rust off car panels or any metal surface – also great for use on wooden or fiberglass surfaces. They can also be used for paint stripping stainless steel.

Smith & ARROW supply Strip Wheels in coarse grit (purple in colour) and medium grit (black in colour) and available in 3" 75mm / 4″ 100mm / 4.5″ 115mm / 5″ 125mm / 6″ 150mm and 7″ 180mm. To see a visual demonstration please view the Smith & ARROW Strip Disc video here.

Grinding Discs
Depressed centre grinding wheels are the recommended grinder attachment for all weld grinding, pipe notching, bevelling and general heavy stock removal – on mild steel. These discs with an aluminium oxide bond are most effective on mild steels, 125mm 5" Grinding Discor softer metals and are not suitable for use on stainless steel.

Aluminium oxide is the most common abrasive used in grinding wheels. It is usually the abrasive chosen for grinding carbon steel, alloy steel, high speed steel, annealed malleable iron, wrought iron, and bronzes and similar metals.

Smith & ARROW supply Grinding Wheels in 3" 71mm / 4" 100mm / 4.5" 115mm / 5" 125mm / 7" 180mm and 9" 230mm. To see a visual demonstration please view the Smith & ARROW Grinding Disc video here.

Fibre Sanding Discs
Manufactured from an abrasive fibre sandpaper, Zirconia Fibre Discs are the recommended abrasive wheels for medium to light stock removal on both 125mm 5" Fibre Sanding Discmild and stainless steel. Used on a backing plate on an angle grinder, resin fibre discs have an extensive scope of applications ranging from fine and coarse sanding, blending welds, deburring and de-rusting. Fibre abrasive sandpaper discs are fitted to suitable backing pads and used on angle grinders.

Similar to flap discs, sanding discs in zirconia grain are suitable for most steels including stainless steel, and are the ideal abrasive for almost all tasks and significantly outlast brown aluminium oxide discs – which cannot be used on stainless steel. Choose 40 grit for aggressive grinding projects, and scale up to 120 grit for a fine finish.

Ceramic sanding discs, similar to CUBITRON™ discs, are made from a ceramic grain, which cuts quicker and grinds cooler – which offers an exceptionally long life. Although more expensive, disc life is significantly longer maintains super-sharp points that cut exceptionally fast with less pressure.

Smith & ARROW supply Zirconia Fibre Sanding Discs in 40, 60, 80 and 120 grit and are available in 4" 100mm / 4.5" 115mm / 5" 125mm and 7" 180mm.